Wood
Ready to Burn – what consumers need to know
Ready to Burn legislation came into force in England on 1 May 2021. This new law will ban the sale of the most polluting fuels used in homes; wet wood and house coal. Wood sold in volumes of up to 2m³ will need to be Ready to Burn certified as having a moisture content of less than 20%.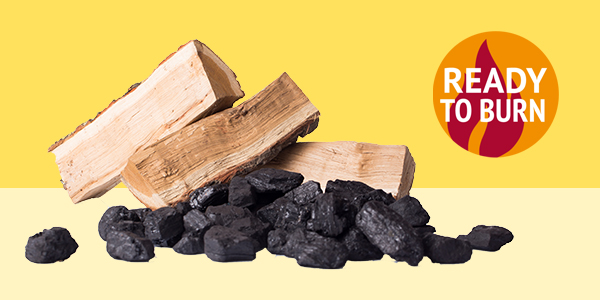 Ready to Burn wood means it's been certified for immediate use. It also burns better as it has a moisture content of less than 20%, so it burns with less smoke than wetter wood. In turn, this helps reduce pollution and improve air quality.
Now is the time to get familiar with the Ready to Burn scheme. We want you to prepare for the new laws that come into force in England from May 2021. You can already stock up on Ready to Burn firewood.
This scheme is backed by the Government's Department for Environment, Food and Rural Affairs (Defra) in support of The Air Quality Regulations 2020 (England). Wet wood and house coal are the most polluting fuels used in homes. This new law will ban the sale of these fuels. It will be mandatory to use small quantities of wood that's certified as Ready to Burn. For larger quantities, the wood will be sold with advice on how to properly season and check the fuel is dry to burn.
Ready to Burn wood is certified by Woodsure, a trusted non-profit organisation. Their independent experts work alongside other national bodies, including industry and government representatives. In addition, to working with retailers, installers and sweeps to promote the benefits of quality wood.
We have always taken pride in the fact that we only source firewood from well-managed woodland as close as is humanly possible to our depot at Holbeach in an effort to reduce our carbon footprint, and supply local fuel to local people.
Seasoned Mixed Logs
Our seasoned mixed logs are a mixture of all types of Hardwoods. When seasoned properly it is the most fantastic fuel for wood burning stoves or indeed any closed appliance releasing a colossal amount of heat very quickly and giving the tiniest amounts of ash imaginable. This long burning mixture of logs is perfect for use on wood burning stoves especially when mixed with a little smokeless coal, it will burn steadily and give excellent heat and efficiency.
Log Prices
Sold by builders bag size volume but we deliver them loose in our easy to move 'wheelie bins' for your convenience. Builders bag size approximately (0.8m³) £85 each
Builders bag size (0.8m³) £85 each
JUST OAK LOGS £100 each
FREE LOCAL DELIVERY
CALL HOLBEACH 01406 490265
OR TEXT YOUR ORDER 07955 885030
We guarantee all the wood is seasoned, dried and has a moisture content of below 20%. The wood is a mix of all Hardwoods split and cut to the length of your choice either small 8" / medium 10" / large 12" - 14" so no more hassle for our customers making our logs ready to burn.
Smokeless Coal
Smokeless coal for all multifuel stoves, should keep the fire going on these cold nights ! £12 (25kg bag) or 10 bags for £100. Free local delivery with SMT Wood Burning Stoves Ltd.
Kindling
Our kindling is sold in 'potato sacks' and is excellent quality kiln dried kindling ideal for lighting a multi fuel stove, open fire or any other solid fuel appliance. £5 per sack size.